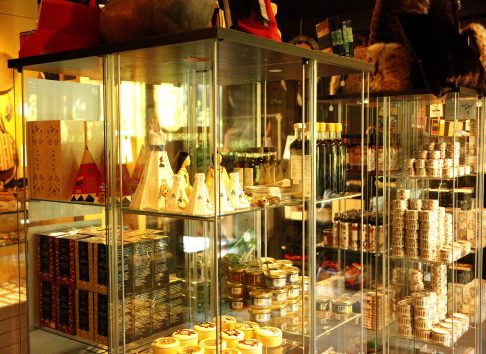 Awen' (water): The Huron-Wendat Museum's Gift Shop
Don't forget to end your visit to the Museum by taking a break in our giftshop called Awen' (water), which offers an impressive range of authentic products for you to immerse yourself in the creek of Huron-Wendat and other First Nations knowledge and skills.
Discover a magnificent selection of arts and crafts: moccasins, necklaces, pottery and others, traditional knowledge is in the spotlight, and you are sure to find what you are looking for. And that's not to mention the books on the history, the local flora and cuisine, the Huron-Wendat and First Nations cultures and traditions, the exhibition catalogues and even some products bearing the Museum's logo. There's something for everyone!
Adress :
Tsawenhohi House
187, Georges-Cloutier St.
Wendake, Qc  G2A 2J5