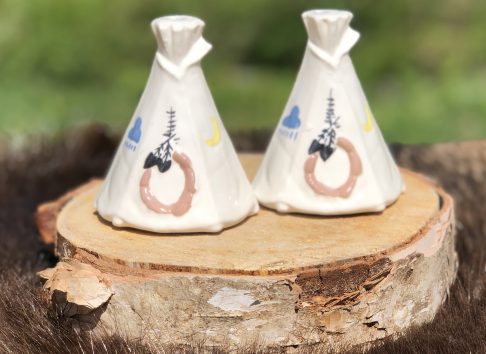 Gift shop
The Awen' (water) Boutique at the Huron-Wendat Museum
Don't forget to end your visit at the museum by taking a break in our Awen' (water) Boutique! The shop is located at Tsawenhohi' House, home of the famous Grand Chief Nicolas Vincent Tsawenhohi. An exhibition is dedicated to this important historical figure within the house he lived in.
We offer an impressive range of authentic products here: it's like a drink at the creek of knowledge of the Huron-Wendat people and other Indigenous nations. Discover a magnificent selection of works of art and crafts: moccasins, necklaces, pottery, and more. Traditional knowledge is in the spotlight, so you'll find what you're looking for. At times, you might even see an artisan at work!
Don't forget to browse the books related to the history, culture, traditions, flora, and local cuisines of the Huron-Wendat and other Indigenous nations and the museum's exhibition catalogues. You may even find some products with the logo of the museum.
In short, there's something for everyone!
Just as water is the source of life, our products will quench your thirst for knowledge!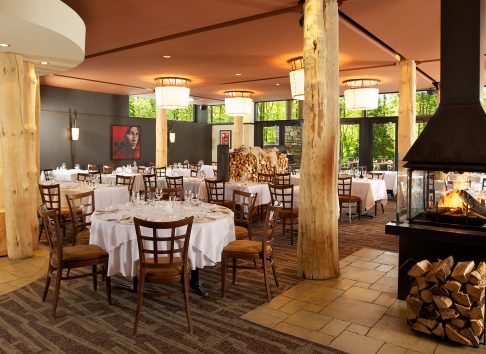 La Traite Restaurant
Has your discovery of history and culture whetted your appetite? Complete your experience at Restaurant La Traite with one of its dishes featuring ingredients of the Indigenous terroir. You'll delight in its decor that mixes modern and traditional elements or relax on its magnificent terrace on the banks of the Akiawenhrahk' River.
Open all day, Restaurant La Traite offers a variety of dishes including vegetarian options. Whether it's for a craving between meals, to take advantage of one of its lunchtime promotions (meal and a glass of wine), or for a complete gastronomic experience with a thematic four- or six-course table d'hôte, you will quickly discover why Restaurant La Traite ranks among the top restaurants in Quebec.
In addition to the rooms available in the banquet area of ​​the Hôtel-Musée Premières Nations, an intimate room equipped with cutting-edge audiovisual equipment is available, by reservation, in the restaurant. In short, whether for a meeting, a dinner with friends, or a pleasant moment of relaxation while sipping one of our clan cocktails on the terrace, any reason is a good reason to come and spend an exceptional moment with us!
For more information, visit the website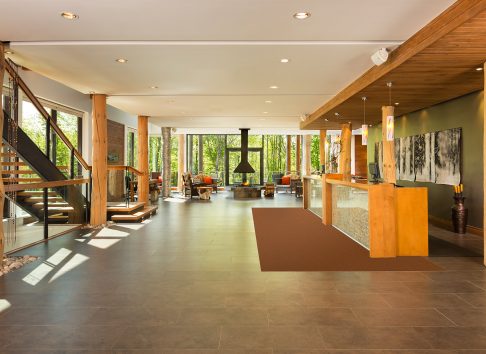 Hôtel-Musée Premières Nations
Do you want to extend your stay? Discover our packages combining accommodation, catering, and historical discovery at the Huron-Wendat Museum. In fact, in the same complex, the Hôtel-Musée Premières Nations, a four-star boutique hotel, offers luxurious rooms that allow you to continue your immersion in the rich cultural history of the Indigenous peoples of Quebec.
Harmoniously combining traditions with modern comfort, each room includes a wireless internet connection, access to our indoor swimming pool, and a unique view of the Akiawenhrahk' (Saint-Charles) River and its woods: an enchanting setting in Quebec.
When the weather is nice, you can spend pleasant moments strolling through the gardens and scenic paths surrounding the buildings. Stop by the boutique located in the hotel lobby for more discoveries of products inspired by Indigenous cultures.
For more information on our packages and rooms, visit the Hôtel-Musée Premières Nations website.