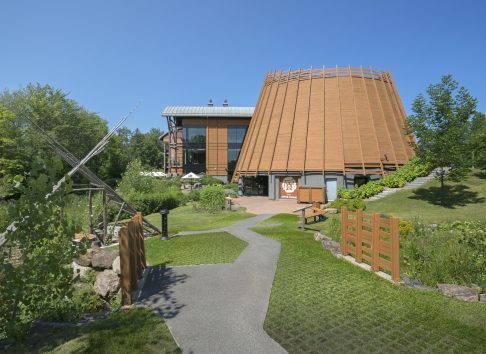 Mandate
Founded in 2008, the Huron-Wendat Museum is a national institution of the Huron-Wendat people that oversees the conservation and enhancement of their heritage.
The museum's mandate is to teach and popularize the history, culture, and arts of the Huron-Wendat people as well as other Indigenous nations. This mandate is carried out through various activities, craft workshops, guided or audio-guide tours, and themed workshops.
One aspect of the museum's mission is to preserve, conserve, and make accessible the material heritage of the Huron-Wendat in Wendake for future generations. Their activities, workshops, and visits are designed to be accessible to all (families, solo travelers, groups of friends, school groups, etc.). The experience offered by the museum takes place mainly through its permanent exhibition Territories, memories, knowledge, its temporary exhibitions, and the Ekionkiestha' National Longhouse. Added to the museum's infrastructure in 2013, Ekionkiestha' brings an immersive dimension to the guest experience.
For those wishing to further their discovery of Wendake, the museum is also a gateway giving access to the interpretation of other heritage sites, including Notre-Dame-de-Lorette Church, Kabir Kouba Falls, and Tsawenhohi' House.
The museum opened its doors in March 2008 and received the Award of Excellence from the Société des musées québécois in 2009.
History
Since the 17th century, in collaboration with numerous interested parties, the great Wendat families have worked to secure and preserve distinct ensembles from their heritage.
In 1967 and again in 2006, the Ministère de la Culture et des Communications du Québec recognized the importance of these unique assets and listed nearly 350 objects from the Huron-Wendat collection as part of "Quebec's cultural heritage". The Huron-Wendat Museum is responsible for the ongoing management and development of these collections.
Since the 1980s, a succession of Wendat cultural agents has been mandated by the Council of the Huron-Wendat Nation to ensure the continuity of this spirit of conservation. These officials have been able to inventory and gather numerous cultural objects of identity value on behalf of the Wendake community, thus consolidating the base of the collection of the current Huron-Wendat Museum. These successive cultural agents ensured the safeguarding of these objects, leading to the creation of the museum in 2008 at the behest of the Council of the Huron-Wendat Nation. Since then, the museum team has been working to promote and teach Wendat culture.
Our mission
The Huron-Wendat Museum's mission statement is:
Preserve, conserve and make accessible the heritage of the Huron-Wendat Nation to the current community and for future generations. To raise visitors' awareness of current socio-ecological issues with participatory, committed and eco-responsible projects.
Our vision
The Huron-Wendat Museum's vision is:
To promote the rich heritage of the Huron-Wendat Nation nationally and internationally while respecting the values ​​of the Wendat community and supporting local economies.
Our values
The Huron-Wendat Museum's values are:
Authenticity – Collaboration – Respect – Responsibility