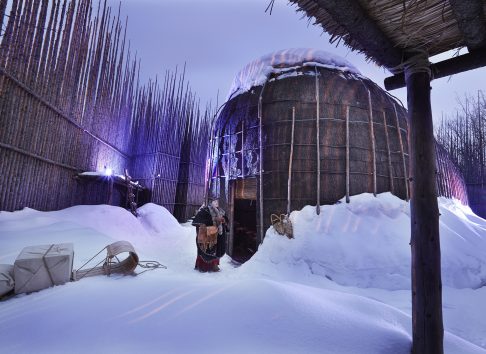 Ekionkiestha' national longhouse
A dwelling of the Iroquoian peoples, the longhouse is built entirely of wood and bark and is heated with three fires. It will give visitors seeking unusual accommodation an authentic immersive experience. It's a symbol of the legendary family and hospitality of these ancient nations. In the magical setting of our National Longhouse, you will travel back to pre-colonial times to enjoy the experience of an overnight stay in this traditional dwelling. This package is suitable for families, couples, groups of friends as well as school groups.

This package includes:
Overnight stay at the Ekionkiestha' National Longhouse;
Our popular "Myths and Legends" activity*: an authentic experience of thousand-year-old traditions of Indigenous culture. A must-do for families, couples, and groups of friends alike;
The services of a fire warden who takes care of your dreams and the fires throughout the night;
A room at the Hôtel-Musée Premières Nations for modern convenience;
Sleeping bag;
Access to the swimming pool;
Breakfast at Restaurant La Traite; and
Service charge.
Overnight stays are available in both summer and winter. The sleeping bags provided are planned according to the temperature.
From:
$650 per person, double occupancy
or
$1,222 per family (two adults and two children 6 to 12 years old).
Taxes not included. Additional fees may apply for Sunday brunch.
Also offered to school groups
For more information, visit the webpage of the Hôtel-Musée Premières Nations, partner of this package.
*"Myths and Legends" activity
Rooted in oral tradition, the Myths and Legends activity has always been a part of Indigenous culture. Myths and Legend evenings offer you an experience stemming from a thousand-year-old tradition! From the creation of Land to the Pleiades, these tales shed light on the culture of the Huron-Wendat Nation from a completely different angle!
In the heart of the Ekionkiestha' National Longhouse, in the glow of a fire, with an Indigenous storyteller: this setting has everything you need for a unique, authentic, and above all magical experience. These evenings are offered every night in English or French.