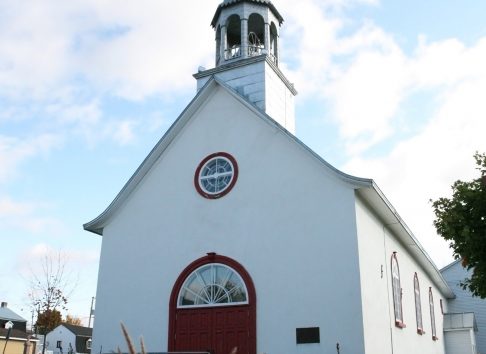 Your journey begins inside the museum with our permanent exhibition "Territory, Memory, Knowledge." Then you will head outdoors to explore the impressive national long house Ekionkiesta' surrounded by a palisade made up of more than 1500 trees and inspired by the pre-contact era. Next, is the Notre-Dame-de-Lorette church, built in 1730, with many liturgical objects displayed, which were gifted to the Nation. Afterwards, you will be guided to the new Onywahtehretsih Place and the belvedere overlooking the Akiawenhrahk River. From here, you can observe the magnificent Kabir Kuba waterfalls where several archeological discoveries were made.
During your visit, you will be invited to stop at the ancestral Tsawenhohi house where there is often one of our guides demonstrating traditional artisanal methods. There is also a permanent exhibition about Nicholas Vincent Tsawenhohi, a great Huron-Wendat diplomat who once resided in this historical home. Located inside the Tsawenhohi house as well is the museum's gift shop, boutique Awen' (water).
During the Discovery Tour, you will visit five sites with live presentations in addition to the temporary and permanent exhibitions and the Tsawenhohi' House, where our Awen' (water) shop is located and a craftsman will demonstrate traditional knowledge, among other things.
The discovery package offers a guided tour of the Huron-Wendat Museum, its exhibitions, and cultural sites.
This activity lasts 2 hours 15 minutes and includes:
Visit of the permanent exhibition « Territories, memories, knowledge »;
Visit of the temporary exhibition of the moment ;
Visit of the Ekionkiestha' national longhouse;
Visit of the Notre-Dame-de-Lorette church;
Visit of the Kabir Kouba waterfall
Visit of the historical fresco and the Onywahtehretsih Nation Square
Passage to the Tsawenhohi House : Demonstrations of traditional knowledge + Awen' (water) shop + permanent exhibition + interpretation panels of historically important characters.